A Sharp Divide in the Construction Marketplace
The 'duality' theme often ascribed to the economy these days—e.g., online retail sales 'great' vs 'bricks and mortar' retail sales 'struggling'—since the onset of the coronavirus pandemic can also be applied to the nation's construction marketplace.  
The Census Bureau's 2020 end-of-year statistics on put-in-place investment in the U.S. showed total dollar volume being +4.7% when compared with the whole of 2019. But the growth was entirely in residential construction, +11.8%, while nonresidential stayed flat, -0.1%.
Table 1 sets out numbers, derived from the monthly PIP data, that highlight the disparity between residential and nonresidential work more clearly (and consequently, more alarmingly).
To establish whether spending in a certain type of construction category has lately been 'speeding up' or 'slowing down,' Table 1 compares latest-three-months over prior-three-months performances (annualized) against latest-12-months over prior-12-months.
If the former yields a percentage change greater than the latter, then it is assessed to be an instance of 'speeding up' and a check mark is placed in the far-right column of the table. If the reverse is true, then it's considered to be a case of 'slowing down,' earning a check mark in the next-to-final column.
For this exercise, when a negative change becomes less negative, it's awarded a check mark in the 'speeding up' column. When a negative goes deeper into the hole, it receives a check mark in the 'slowing down' column.
As a sidebar, for December of any year (which is the month being scrutinized in this article), the percentage change figures in the 'year to date' and 'latest 12 months' columns are the same.
A Boom in Residential Construction Activity
In Table 1, the 'total' value of construction in December 2020 was 'speeding up,' going from +4.6% to +17.5%. But consider the two main components. Residential was the clear driver, accelerating from +11.3% to +51.1%. The fourth quarter of last year saw a half-again pickup (annualized) in residential construction spending compared with the third quarter.
What is not clear from the Census Bureau's figures is how much of the recent gain in residential construction activity has been from new projects (i.e., homebuilding) as opposed to renovation work. Groundbreakings on new single-family residences have been soaring of late, but 'working from home' has also provided a major incentive to proceed with remodeling efforts.
Interestingly, 'residential' grabbed a much larger share of 'total' in December 2020, at 47%, than in December 2019, 41%. Nonresidential construction's share of the 'total' amount of construction correspondingly diminished to 53% from 59%.
Nonresidential Construction Pausing & Considering 
By the close of last year, capital spending on nonresidential construction, as a whole, was 'slowing down,' moving from 0.0% for latest-12-months change (or lack thereof) to -4.0% for latest-three-months change.
More significantly, capital spending in 12 of nonresidential's 16 type-of-structure subcategories either softened or softened further. The most notable pullbacks occurred in: lodging, from -14.1% to -26.2%; communication, from +1.7% to -10.5%; power, +5.0% to -7.7%; health care, +4.0% to -11.5%; manufacturing, -10.2% to -25.7%; water supply, +16.5% to -9.8%; and public safety, +42.2% to -6.9%.
The power and manufacturing subcategories were susceptible to the winding down of work on mega-size energy projects that were initiated in 2019, before the coronavirus beachhead was established.
Table 1 does highlight four subcategories of nonresidential construction with check marks in the 'speeding up' column. 'Religious' in December held up +17.9% for latest-three-months to contrast with -11.1% for latest-12-months, but its share of 'total' was a minor 0.2%.
More encouraging developments were to be found in educational construction, from -0.7% to +15.2%; transportation, -0.6% to +3.4%; and highways and streets, +2.2% to +17.5%.
Roadwork additional spending relates to new suburbs that are being green-lighted. Plus, there are prospects for much more work to come if the newly installed Democrat administration in Washington acts on its election promise of a massive infrastructure spending bill. Pete Buttigieg, in his new role as Secretary of Transportation, must be itching to launch such an initiative.
The school investment is to make teaching establishments safer, from a health standpoint, for returning students.
In 'transportation,' numerous large metropolitan areas have major LRT and subway expansions on their drawing boards. Timing of those projects, though, seems open to question, given the difficult COVID-19-related financial circumstances that have landed on city council doorsteps.
Table 1: U.S. Put-in-place Construction Investment − December 2020
Based on 'current' (i.e., not adjusted for inflation) $s, seasonally adjusted at annual rates (SAAR)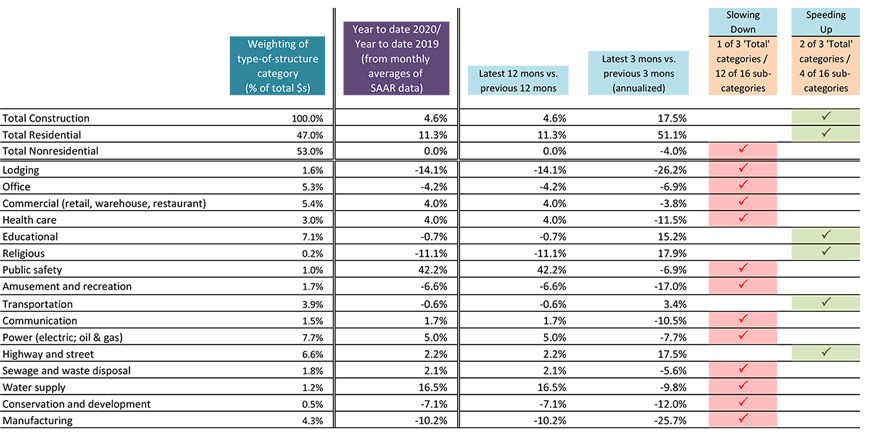 In the final two columns, if there is no check mark in the cell, then the type-of-structure category has stayed within 1.0%, up or down.
A negative that becomes more negative is considered to be 'slowing down'; if less negative, then 'speeding up'.
Data source: Census Bureau / Table: ConstructConnect
---