a team comprising diller scofidio + renfro (DS+R), gustafson porter + bowman, and b720 fermín vázquez arquitectos has been selected to complete 'RENAZCA', a public space at the heart of madrid. as part of the project, the AZCA area of the spanish capital will be transformed into an open and connected destination for culture and recreation. the team was chosen after a two-stage competition as part of a larger initiative to reactivate public space with the support of the private sector.
water feature at the central green | all images and video courtesy of the design team
RENAZCA is a private initiative formed by companies who own buildings in the district. these firms united in an effort to regenerate and improve AZCA's public spaces through an international design contest. the competition's winning team will be led by diller scofidio + renfro, gustafson porter + bowman, and b720 fermín vázquez arquitectos, in collaboration with consultants whose expertise includes landscape, sustainability, structure, lighting, and circulation modeling.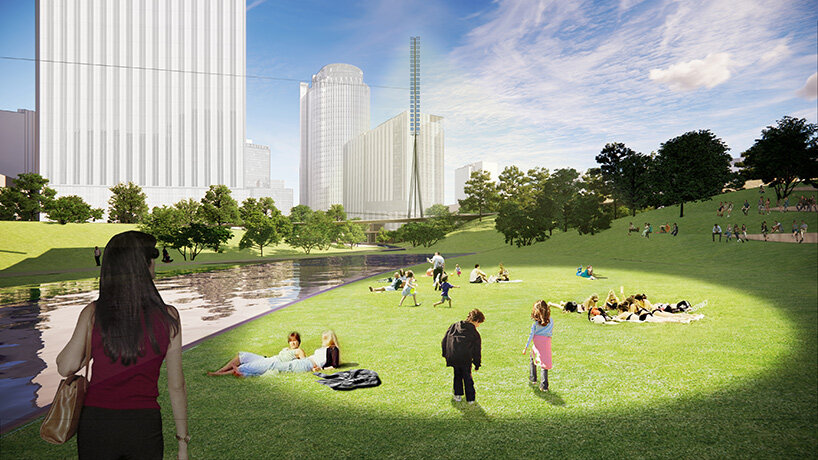 permanent sun: heliostat system
emphasizing the role of accessibility, open space, and sustainability, RENAZCA prioritizes pedestrians with newly reconfigured public spaces. at the periphery of the block, vehicular access to underground roadways will be adapted with lushly planted trellis structures to reduce the visual impact of cars, with barrier-free access replacing the stairs and ramps found on the site today. meanwhile, a new network of pedestrian routes and walkways connects the site to its urban surroundings and nearby transportation networks, enfolding AZCA into the rest of the city.
permanent sun installation
at the heart of the district, a new topography with elevated edges forms the 'central green' — a meadow flexible enough to accommodate a variety of outdoor events, ranging from a 200- to 10,000-person capacity. this space features a pair of responsive environmental sculptures: 'permanent sun' will reflect sunlight onto areas perpetually cast in shadow using an array of pivoting heliostats; while 'permanent shadow' will provide a consistent area of reprieve from harsh sun, using a hovering 22-diameter disk. these installations are shown in more detail in the videos above and below.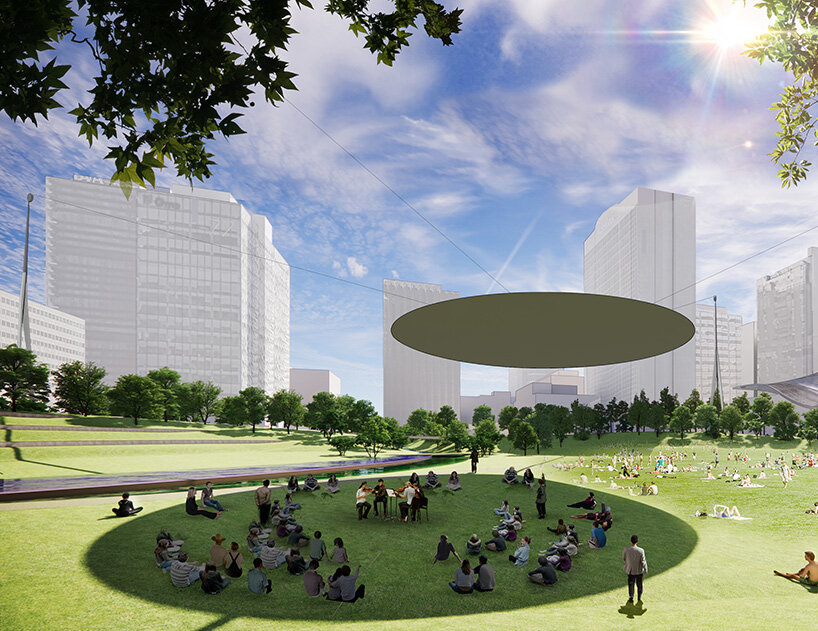 permanent shadow: floating canopy and mast structure
conceived as a safe and welcoming public space for the entire city, RENAZCA will be activated with recreational and cultural activities, planned night and day, and across all seasons. the proposal incorporates 15 'urban rooms', each tailored according to their site conditions to host a unique landscape and program, such as a fresh produce market, children's playground, open-air library, sculpture garden, cafés and bars, a productive garden, and an outdoor co-working space.
permanent shadow installation
the biodiverse urban ecosystem will feature native plantings and a dynamic water feature that recalls the old river channels that once crossed through the site. a rainwater catchment and storage system will irrigate the landscape and regulate the water feature. the design shown here will now evolve in response to the input of local citizens, businesses, and other community stakeholders.