in 2018, diller scofidio + renfro and woods bagot were chosen to design a major new institution for the australian city of adelaide. now, the team behind the project has released its updated design for the project, which will be known as the 'aboriginal art and cultures centre' — or the AACC. the venue will showcase the past, present, and future of aboriginal cultures, while supporting contemporary art practices and events across disciplines.
grounded on kaurna land, the design of the 11,500 square meter (123,785 square foot) building originates from the aboriginal conception of the elements that link us to place: earth, land, and sky. the design team explains that the narrative for the building is based on the deep aboriginal connection to country, place, and kin, with connected layers being the foundation of the design.
all images courtesy of DS+R and woods bagot
DS+R and woods bagot say that the lower level galleries and terraced landscapes are carved from the earth, providing indoor exhibition spaces, performance spaces, and a gathering area for 'welcome to country' ceremonies within the outdoor amphitheater. meanwhile, reveals in the upper galleries frame views oriented to the sky and natural surroundings, while also exposing the activity within. in total, the AACC offers 7,000 square metres (75,347 sqf) of exhibition space — ranging in terms of size, height, and light quality, while all offering views of the natural surroundings.
at the heart of the building is a flexible, three-story gathering and performance space that visitors spiral around as they make their way to different levels. for both the structure and the façade, the design team drew inspiration from the temporary shelters created by aboriginal peoples across australia, known by names such as 'wurlie' and 'humpy'. a basket-like nest of columns shapes the central space and anchors the entire building, placing storytelling at the heart of the building. draped onto this structure is a softly shimmering woven skin that tilts open to connect aboriginal art and cultures back to the public and to country.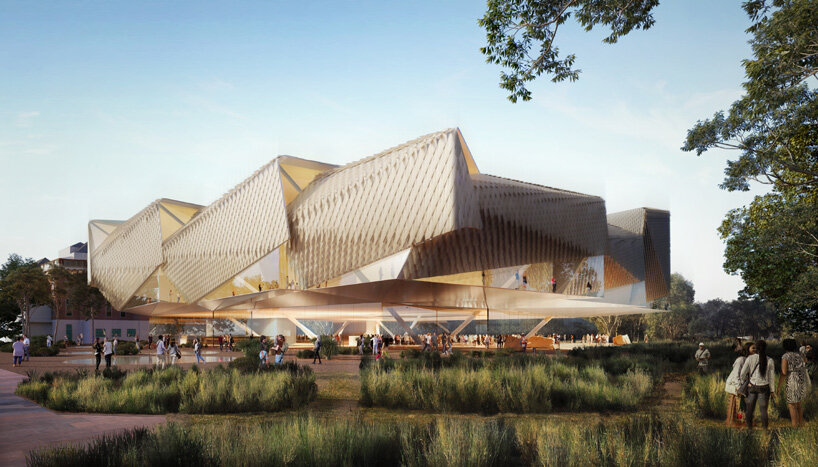 'we're thrilled to be part of this ground-breaking vision to create a place of pride that authentically honors the oldest living cultures on the planet,' says DS+R partner charles renfro. 'this first-of-its-kind project has taken on a new life with our continued collaboration with the aboriginal community and other stakeholder groups, as well as our australian design partner woods bagot. the AACC will welcome visitors through a radically open ground floor, into a safe space with storytelling at its heart. it will be a building of the 21st century, while remaining agile enough to allow future generations to evolve their own storytelling.'
construction is set to get underway later in 2021 with the center scheduled to open in early 2025. the design collaboration between DS+R and woods bagot started with the competition winning entry for 'adelaide contemporary', which can bee seen on designboom here.
project info:
name: aboriginal art and cultures centre (AACC)
location: adelaide, australia
architects: diller scofidio + renfro (DS+R) and woods bagot
status: construction set to start later in 2021 with opening scheduled for early 2025
more info: DS+R's website
philip stevens I designboom
feb 01, 2021