in response to the COVID-19 pandemic, architecture studio zeller & moye has designed an 'introverted refuge zone' called 'halo'. intended for one person at a time, the structure can easily be assembled from a kit of parts with thin steel tubes connected to create a rigid, yet lightweight frame. a roll of protective mirrored film is then wrapped around the structure, with access provided by lifting the film off the frame at one end. 'by framing the private space around a person the extend of our individual comfort zone, our own aura is made visible, like an offset around a nucleus — a halo,' explains the design team.
all images © sergio lopez
designed to be inserted into any public setting, 'halo' provides users with a secure and comfortable space away from the threat of physical contagion. once inside, the occupant's focus shifts towards the open sky, trees, and birds above, fostering a closer relationship with the natural world. zeller & moye explains that the semi-reflective skin offers a dual effect of reflection and transparency. when viewed externally, the surrounding area is reflected in the mirrored surface. this enables the structure to blend with its environment with the occupant only visible upon closer inspection.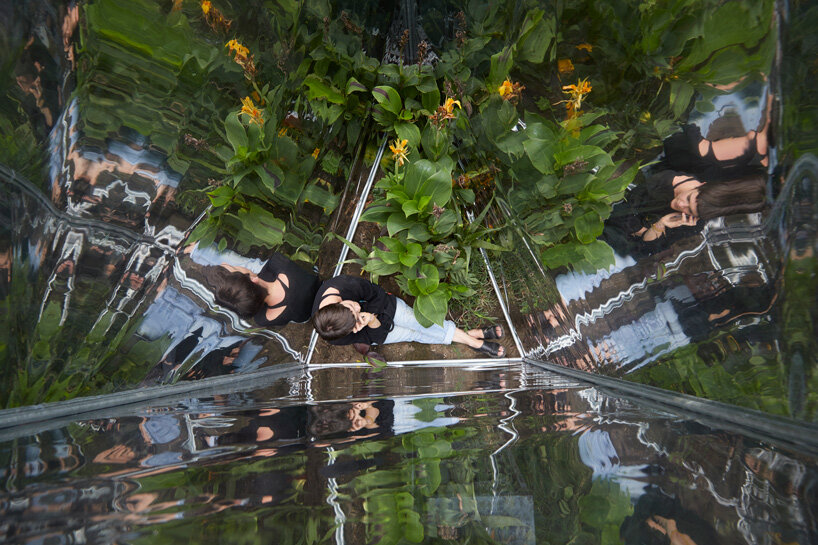 internally, a kaleidoscopic effect expands the contained space to a multiple of its own scale while maintaining views to the outside and passersby. 'the person relaxing inside halo gets reflected too, imitating the sense of being part of a larger group — a feeling that is sorely missed during the pandemic,' continues zeller & moye. 'placed around existing urban elements such as a bench, a bollard, or a tree, 'halo' can transform into a small living room where one can stretch out on a bench, or a reading niche when sitting on street furniture such as a poller, or a nap space laying in the grass below the canopy of a tree.' see more projects by mexico city- and berlin-based firm zeller & moye on designboom here.