the V&A museum has launched a website featuring new digital content about the raphael cartoons ahead of the reopening of the transformed raphael court. the online offer gives unprecedented access to the cartoons, where interactive features and in-depth stories showcase the 500-year old history of these artworks in ultra-high-resolution photography, infrared imagery, and 3D scans.
in 1513, pope leo X commissioned raphael to create a set of ten full-scale designs for a series of tapestries for the sistine chapel in the vatican palace, illustrating scenes from the lives of saint peter and saint paul. once complete, the cartoons – each measuring around 5 meters wide and 3.5 meters high – were sent to the workshop of merchant-weaver pieter van aelst in brussels, which transformed the monumental designs into tapestries. seven of the cartoons survive to this day, brought to britain in the early 17th century by the prince of wales, later charles I. they remained in the royal collection and were lent to the south kensington museum – now the v&a – by queen victoria in 1865 in memory of prince albert, and have been on public display in the museum ever since.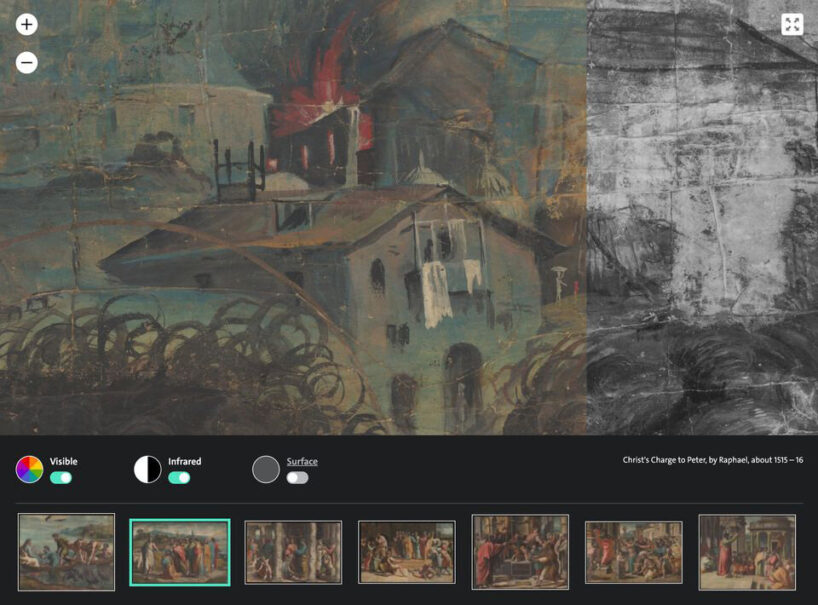 the online features include the story of the cartoons, exploring their commission, production and survival, as well as how they are translated into a tapestry. exploring cartoons uses the new HD imagery allowing users to examine the making and design of the cartoons in more detail by zooming into high-resolution panoramic photography of their painted scenes, infrared imagery showing the charcoal drawing underneath, and 3D scans of their paper surface.
this new online content was produced as part of the V&A's raphael project, marking the 500th anniversary of raphael's death in 2020.