in november 2010, paris-based architect vincent callebaut was chosen to construct a sustainable residential structure in taiwan. titled 'tao zhu yin yuan', the project was first featured on designboom in 2013 with the architect providing us with a construction update in 2016. now, as of january 2021, the tower's gardens are finally being planted, with waterfalls constructed and interior spaces fitted out. once complete in late 2021, the twisting building will carry around 23,000 trees, which will absorb up to 130 tonnes of carbon dioxide each year.
all images courtesy of vincent callebaut architectures
located in central taipei's xinjin district, the tower employs a pioneering concept of sustainable residential eco-construction that aims to limit the ecological footprint. consequently, vincent callebaut's design has been conceived as a fragment of vertical land — or an 'inhabited tree'. the landscape, designed by san francisco firm SWA, further reinforces the tower's spiraling movement.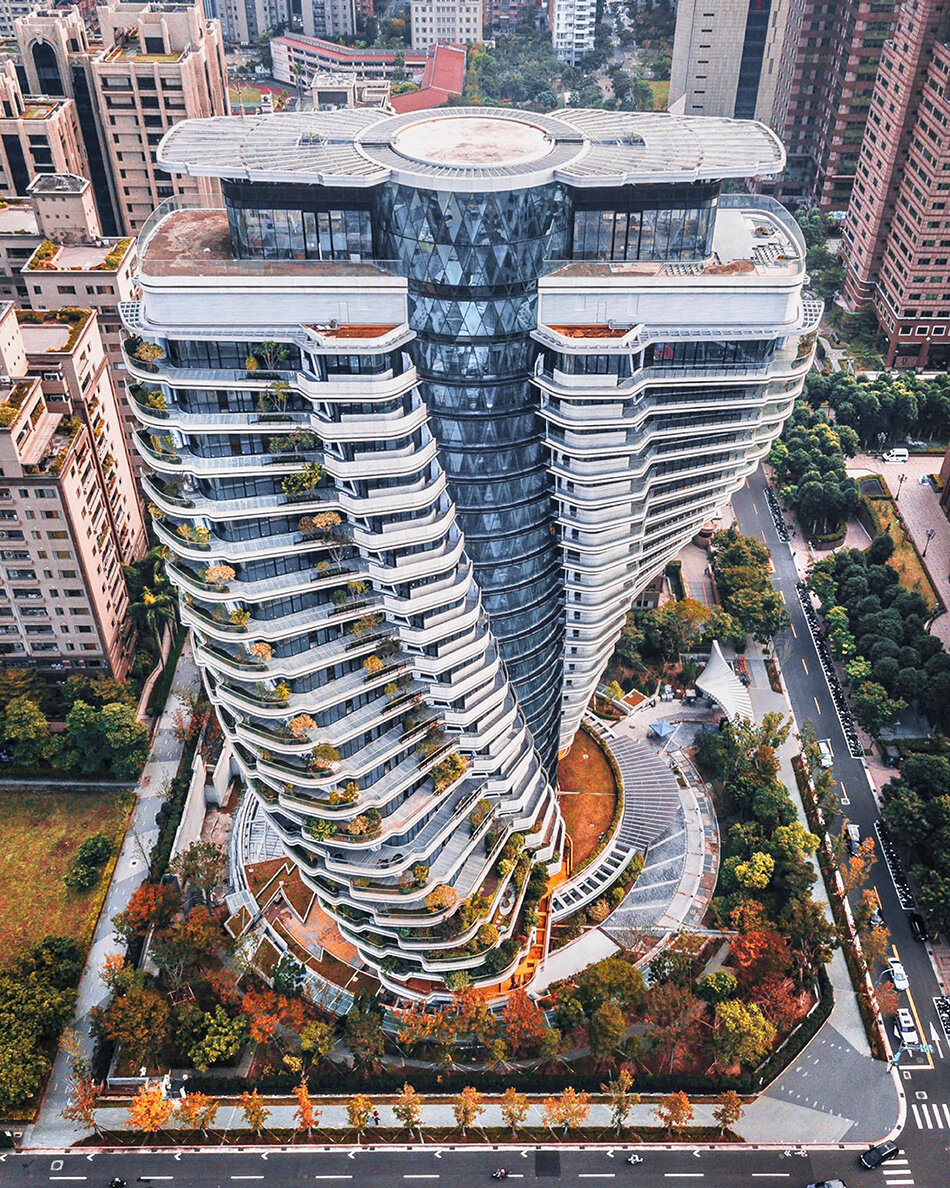 taking the form of a double helix, the structure's twisting shape responds to four key aspects of the brief. firstly, the building takes on a pyramidal profile when viewed from the north or south, respecting the existing context and various massing restrictions. secondly, the cascading shape allows for suspended open air gardens, meaning that the balcony surface area is able to easily exceed the required minimum of 10%.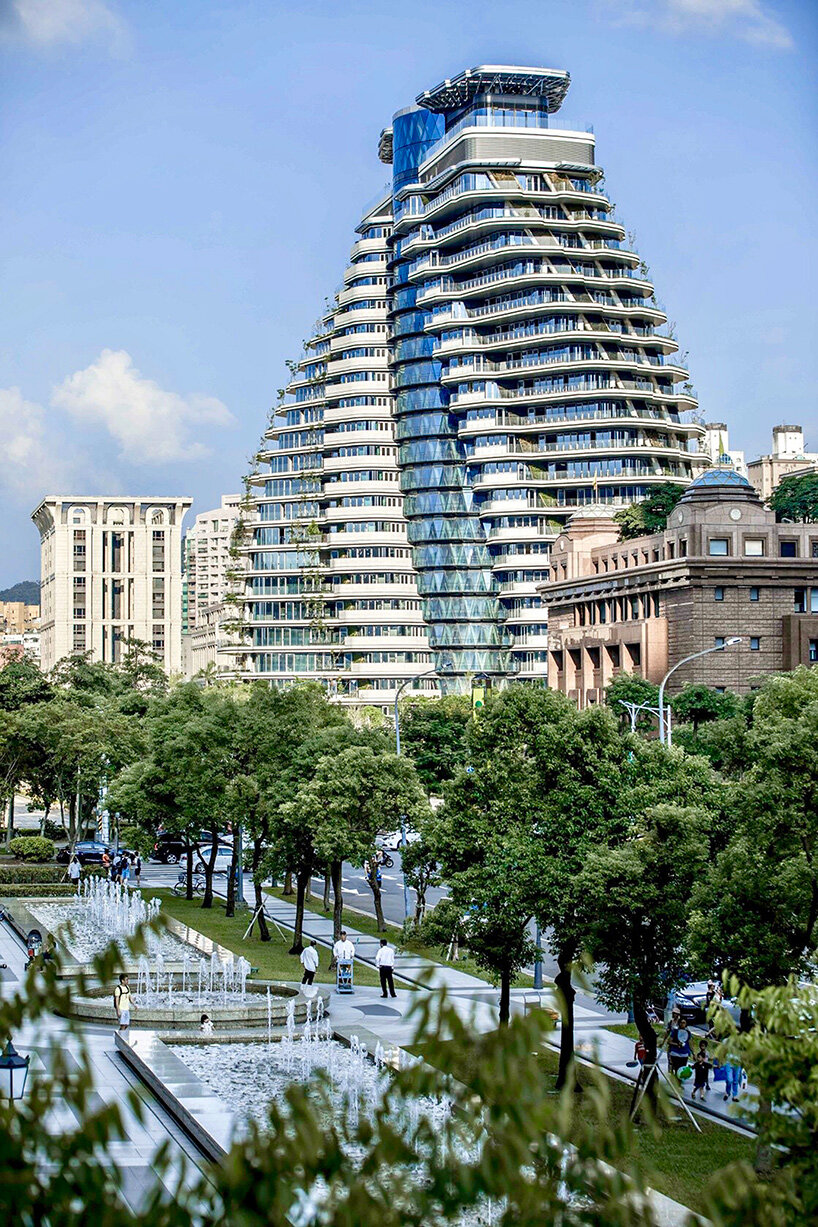 the 90 degree twist also ensures that inhabitants have panoramic skyline views, particularly towards the nearby 'taipei 101' tower and the city's central business district. finally, the form also ensures a progressive geometry where greenery offers seclusion and privacy throughout the day. each storey is rotated an incremental 4.5 degrees as the building ascends.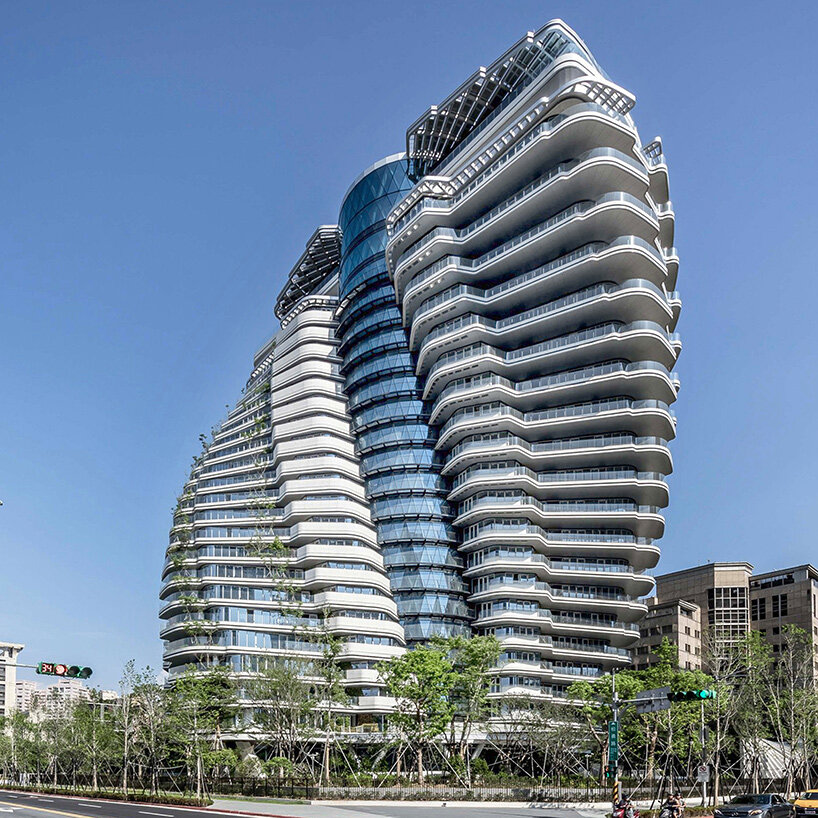 designed to resist earthquakes, a fixed central core contains vertical circulation and separates the two housing units on each floor. the structural design means that a range of internal layouts are possible. when viewed from different angles, the building takes on a range of appearances, and, when seen from the top of the 'taipei 101', appears as a sustainable green urban landmark for the city. see designboom's previous coverage of the project here.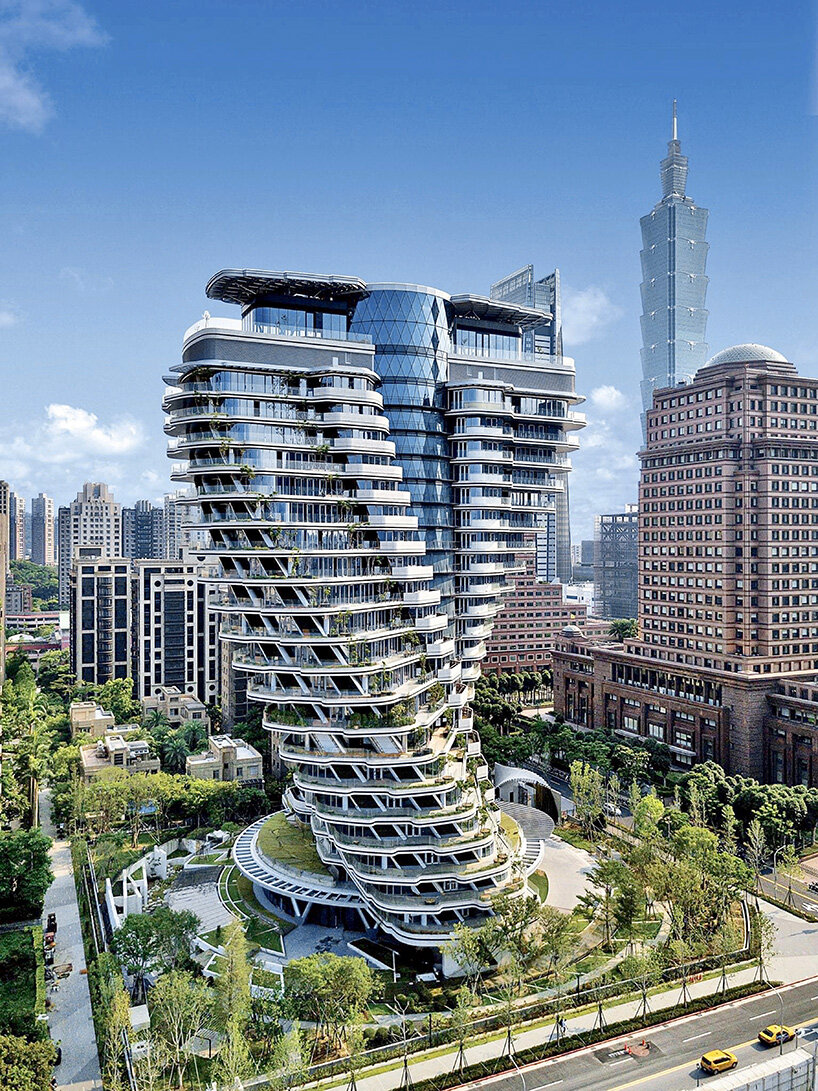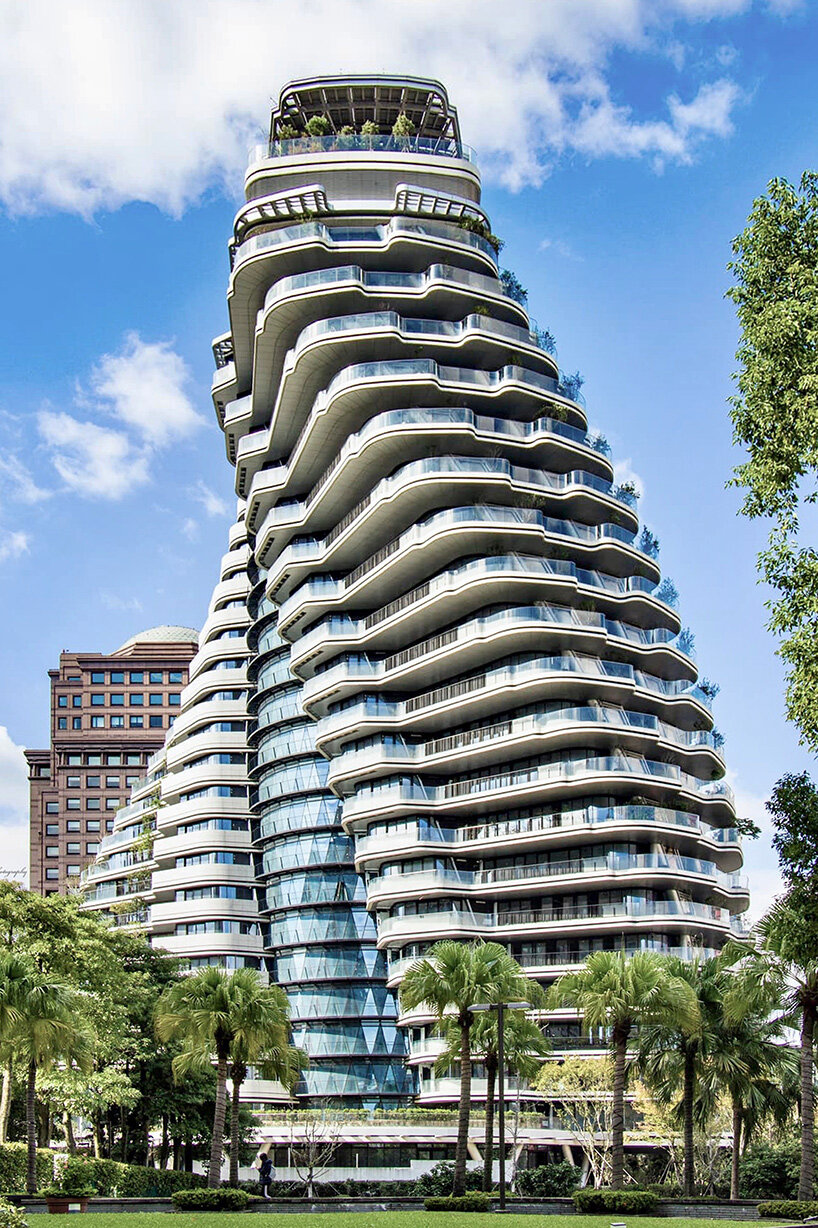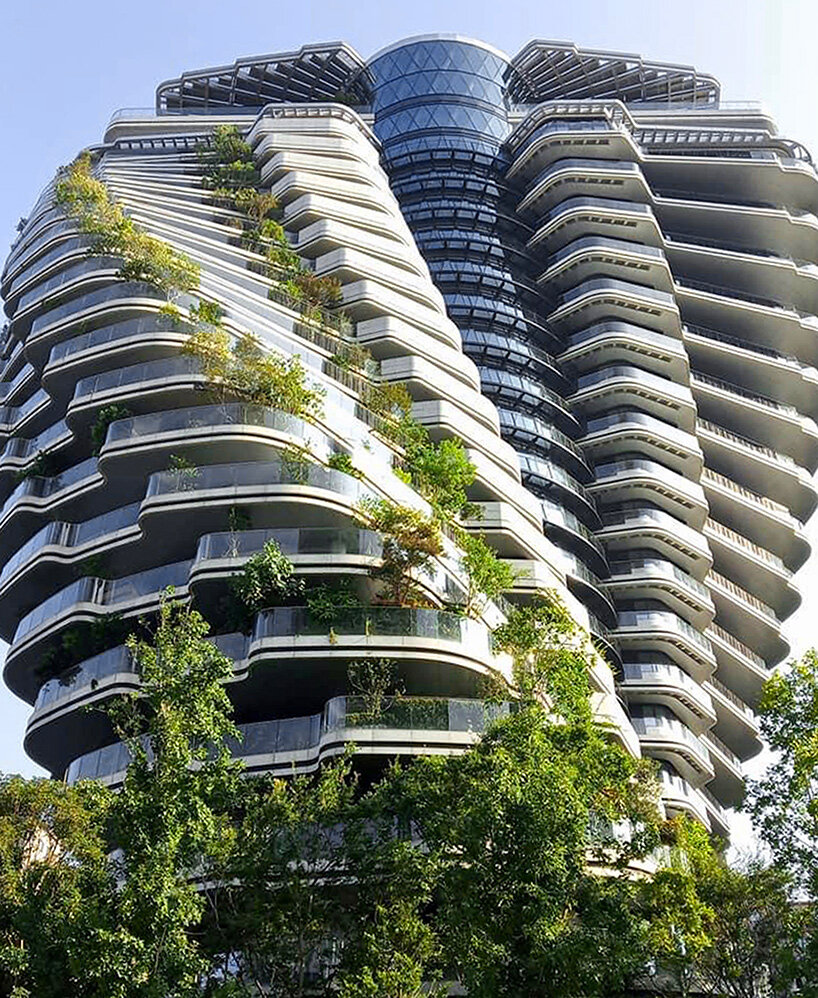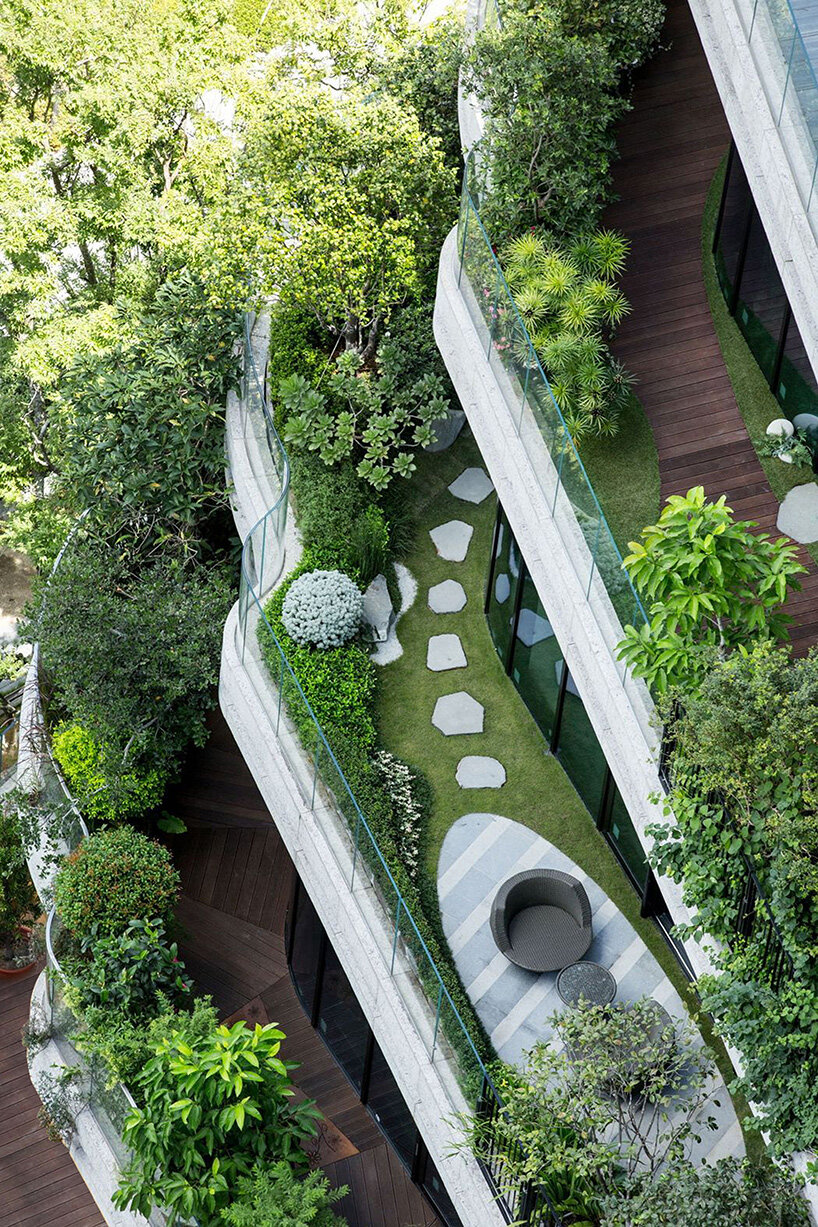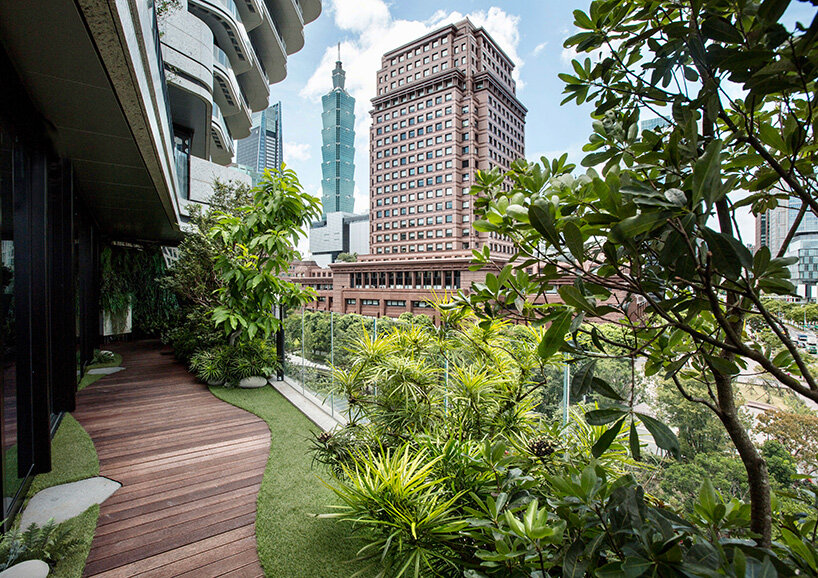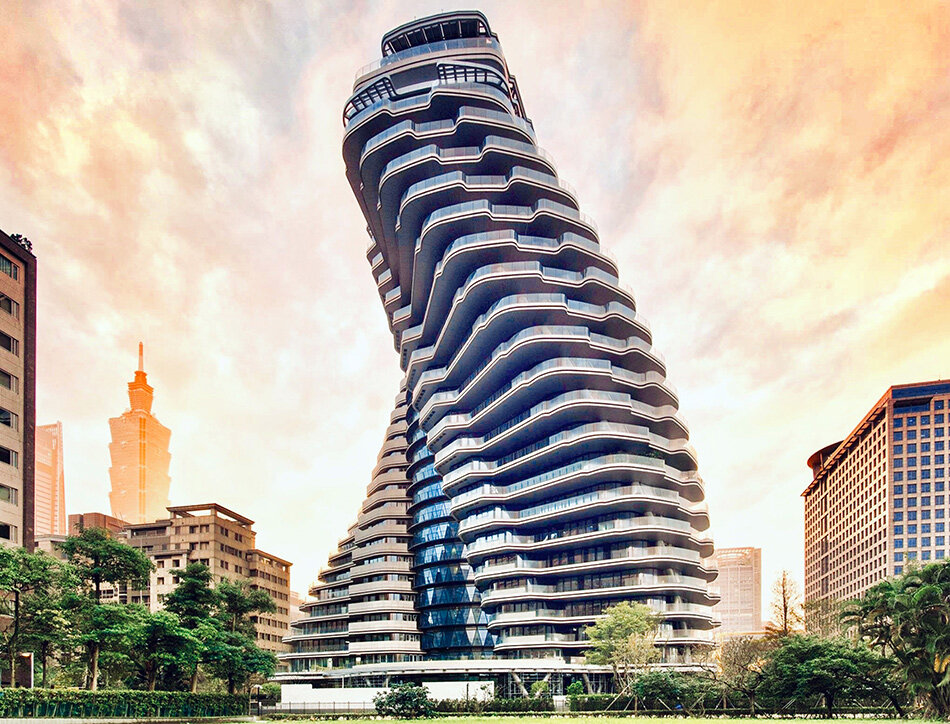 project info:
name: tao zhu yin yuan, a carbon-absorbing vertical forest
location: taipei, taiwan
type: international architectural competition – first prize winner in november 2010
international architect: vincent callebaut architectures, paris
location: taipei taiwan, xinyi district, song gao road & song yong road
site area: 8,160 sqm / 87,834 sqf
total floor area: 42,705 sqm / 459,673 sqf
zoning: residential area (taipei xinyi development district)
floor structure: 21 floors and 4 floors basement, steel structure & earthquake protection system
client: BES engineering corporation, taipei
contractor: taiwan kumagai co, ltd
current phase: gardens planting, waterfalls construction and interior decoration of public facilities space are undergoing
green certification: U.S. green building council LEED gold + ; low carbon building alliance diamond level
local architect: LKP design, taipei
structural engineer: king le chang & associates, taipei
local MEP engineering: sine & associates, taipei
international interior architect: wilson & associates (WA), los angeles
local interior architect: chu chih-kung + metro space design, taipei
international landscape architect: SWA, sausalito, san francisco
local landscape architect: horizon & atmosphere (H&A), taipei
international lighting designer: l'observatoire international, new-york
local lighting designer: unolai design, taipei
green consultant: enertek, taipei
VCA's team: emilie diers, frederique beck, jiao yang, florence mauny, volker erlich, philippe steels, maguy delrieu, vincent callebaut
philip stevens I designboom
jan 26, 2021