nendo has unveiled an in-flight amenity kit for japan airlines (JAL) inspired on the airline's red crane logo. dubbed tsurumaru (crane circle), the logo acts as a symbol of peace, prayer, and the spirit of hospitality. the new kit includes everything from the cutlery and plates, to blankets, cardigans, eye masks, slippers and menu cards alike.
images by akihiro yoshida
the japan airlines amenity kit by nendo emulates both the paper crane's wings and its folding pattern in the different pieces. for example, blankets, tablecloths, napkins and other rectangular fabrics boost the detail of a folded corner, in the image of the crane's head. on the other hand, the pattern for folding a paper crane is employed as a design element on pouches and menu cards. the number and colors of folds are differentiated, so the cabin crew may distinguish the menu cards, which may differ from flight to flight. the design conceived is one wherein similar patterns are applied to tray mats and tableware on domestic flights, with lines from the folding pattern revealed by arranging and stacking tableware for a sense of visual unity, while still depicting change according to changing menus.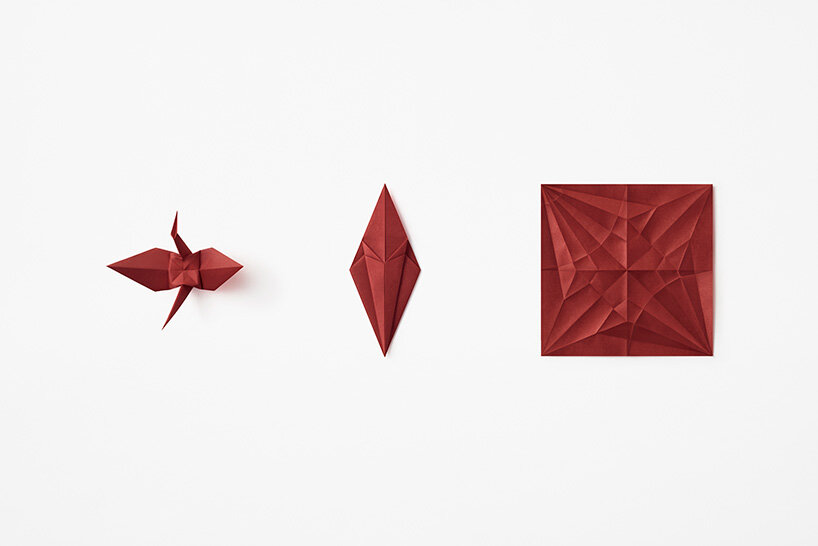 the color palette was a defining design element, as the idea was to accentuate the red paper crane motif. therefore, seven distinct grays were prepared to be combined in appropriate mediums and places. each of the four classes found in planes are themed not with singular colors but with two or three grays. for example, first class was assigned with a calming warm gray, while light gray and dark gray were combined for the business class's color scheme to give it a sharp and modern look. Three light grays were mixed for the airiness desired for economy class. A neutral gray to fit seamlessly into any class was used in the packaging for masks, earplugs, tissues, toothbrushes, and other consumables.