mercedes-benz premieres the EQA – the all-electric cousin to the ever popular GLA. it continues to build upon the legacy of the brand's first ever production EV – the EQC – as an entry-level model. this compact crossover is estimated to offer a battery range of 486 km (302 miles) and a rapid charging time of just 30 minutes.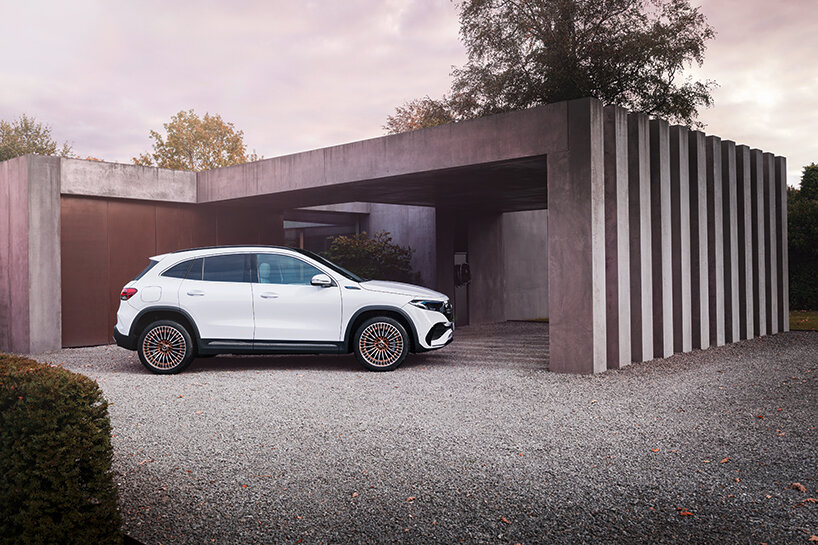 all images courtesy of daimler
the mercedes-benz EQA 250 model consumes its 140 kW of electric energy at 15.7 kWh per 100 km. in total, this offers an estimated range of 486 km. other performance statistics include 375 Nm of torque, acceleration from 0-100 km/h in 8.9 seconds, and a top speed of 160 km/h. with access to more than 450,000 AC and DC charging points across 31 countries, the car can be recharged in 30 minutes with rapid DC charging and in five hours and 45 minutes at wallboxes or public AC charging. drivers do not need to stress about range anxiety as its automatic anticipatory driving navigation intelligently calculates the route that will get you to your destination fastest. this takes into account the charging, performance traits, and numerous other factors like topography and weather.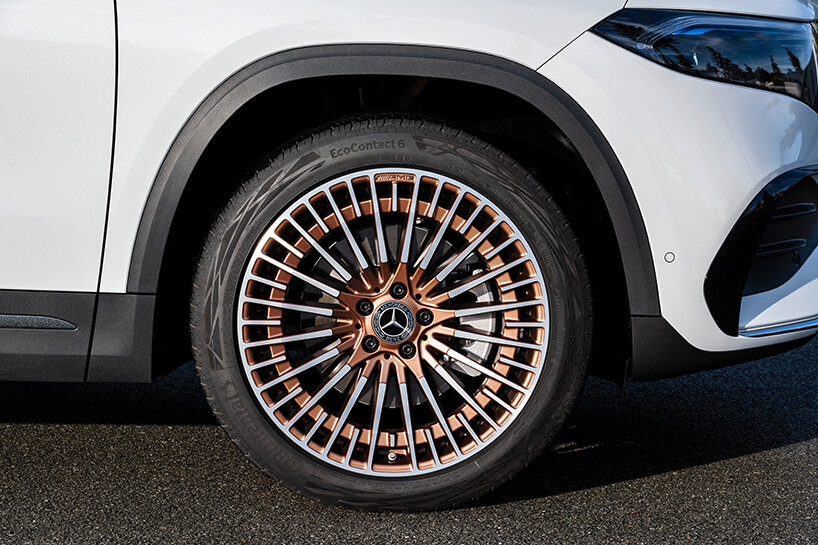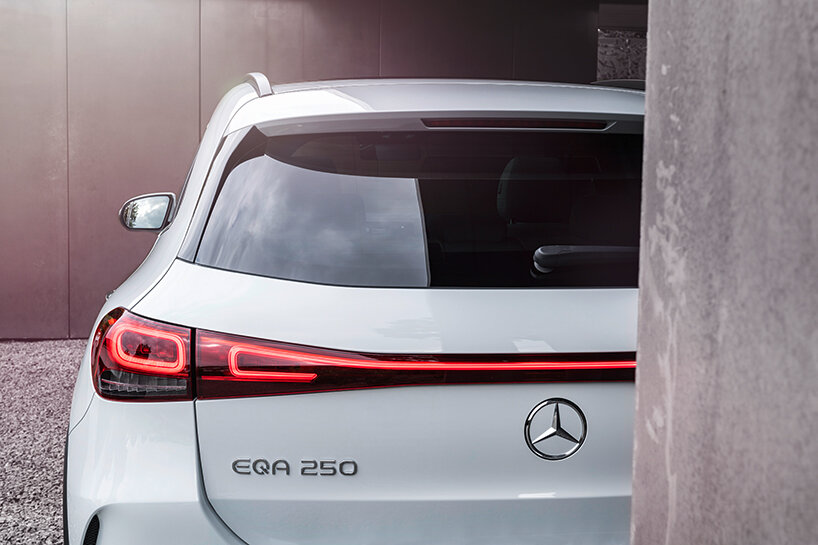 the EQA's dynamic design mirrors its driving performance. the exterior shares many traits with both the 2021 GLA and mercedes-benz's electric family. firstly, the powerful overall proportions reference the GLA with short overhangs at the front and rear, subtle powerdomes on the bonnet and shoulders, and a visually compact greenhouse which recedes towards the back with coupe-like lines. its design also hints at the electro-aesthetics – known as the brand's progressive luxury styling – that is prominent in the EQC. on the front, a black panel radiator grille with their central star sits between the two LED high performance headlamps with adaptive highbeam assistance. a horizontal fiber-optic strip connects the daytime running lights. at the back, the LED tail lamps merge seamlessly into the tapered LED light strip.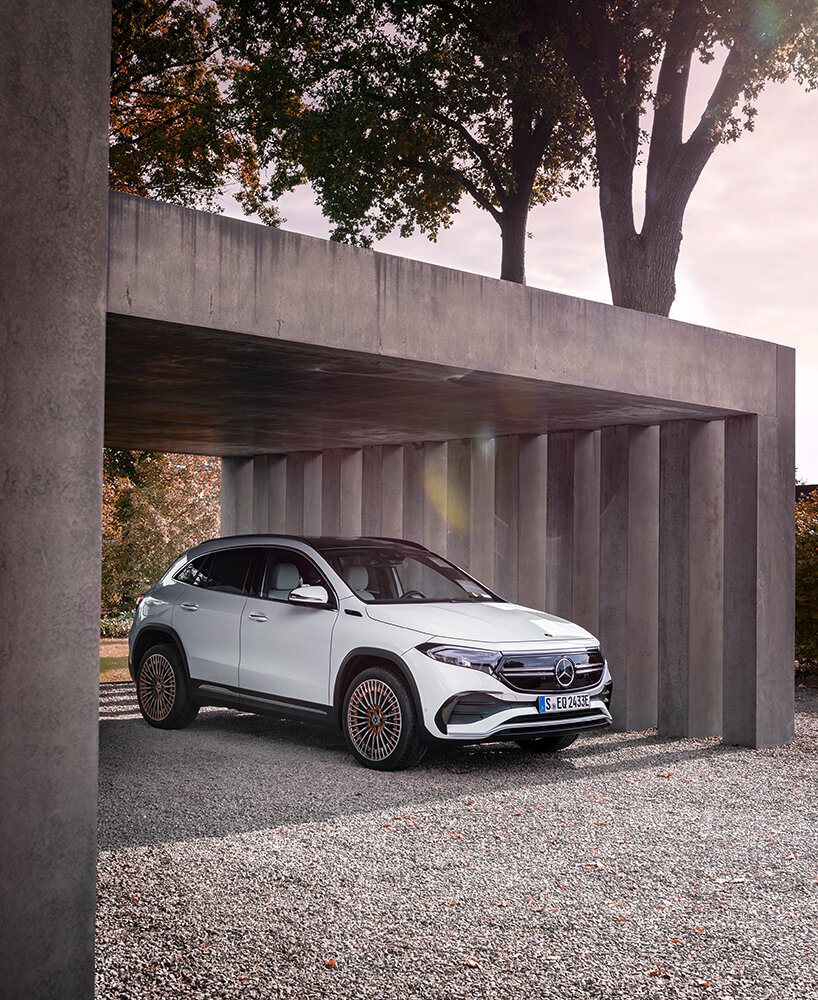 the exterior design's aerodynamic development was undertaken entirely digitally – a first for the brand. the wind tunnel revealed a Cd value of 0.28 for low wind resistance thus higher efficiency of the battery range. several design details help this performance: the completely closed cooling air control system in the upper section, the efficiency front and rear aprons, smooth underbody, optimized aero wheels, and adapted front and rear wheel spoilers.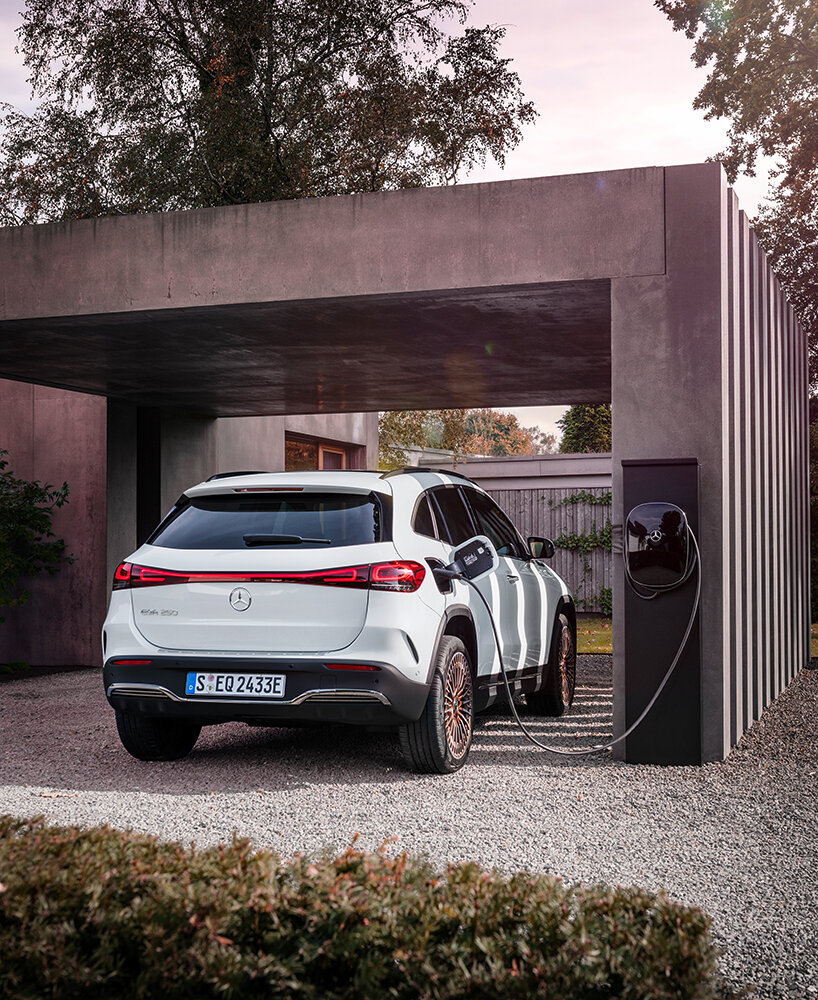 considered dampening of the electric powertrain also helps create a highly comfortable cabin experience. here, electric blue and rose gold highlights continue to embellish the interior design of the mercedes-benz EQA, even the display screens. the driver's side of the dashboard is dominated by the free-standing display unit – like the GLA – whereas cut-outs with a spiral finish defines the passenger's side. instruments, such as the ventilation outlets that appear like wind turbines, are decorated in a rose gold-colored trim. surfaces of the interior architecture can be finished in open-pore walnut wood, black lime wood or aluminum with light longitudinal grain as well as fabric made from recycled PET bottles. like the sports steering wheel, the luxury seats with four-way adjustable lumber support are also upholstered in perforated leather