french architect christian de portzamparc has completed a cultural center in suzhou, a city about 100 kilometers (62 miles) northwest of shanghai. the project forms part of the chinese city's wujiang lakefront masterplan, which will see a series of distinctive designs realized on the shores of lake tai. located on a site where the district's pedestrian axis meets the water, the 'suzhou bay cultural center' is prominently situated and offers sweeping views across the lake.
all images by shao feng
the building is divided into two parts, with museums, exhibition space, and a convention center to the south of the axis, and a 1,600-seat opera house, music school, and movie theater to the north. christian de portzamparc chose to connect these two wings with sculptural, ribbon-like forms that encompass the two structures. this also results in an accessible walkway between the two wings, 40 meters (131 feet) above ground — offering sweeping views across the city.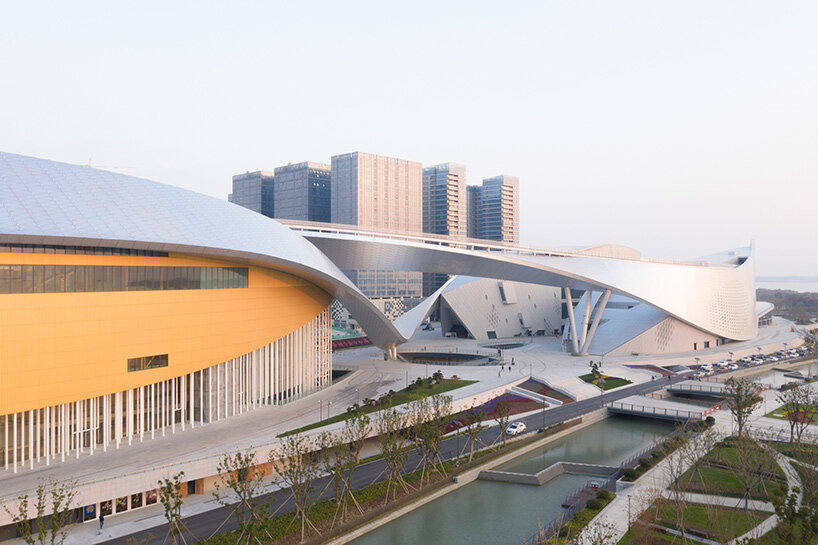 the design of the cultural center seeks to create a new landscape that connects water, sky, and architecture through a play of iridescent reflections. made from steel and aluminum, the metallic ribbon spans a length of 500 meters (1,640 feet). christian de portzamparc notes that the wings, linked in a figure of eight by the ribbon, represent duality in movement in the form of ying and yang. see other projects by the pritzker laureate on designboom here.