powerhouse company has crowned the reception center for a new city district in china with a sweeping canopy named 'paper roof'. the building, which is located next to jin hai lake in binhai, tianjin, comprises a sleek glass box topped with a contemporary take on the flying eaves found in traditional chinese architecture. 'the iconic roof design plus the flexibility of the interior will ensure a long and versatile future for our building,' says stijn kemper, partner at powerhouse company.
all images by weiqi jin
powerhouse company explains that the roof's distinctive corners are a feature of ancient chinese buildings and, alongside their role in deflecting rainwater, are believed to be auspicious in their own right. the roof's diagonal beams form a mesh that references a forest canopy, sheltering the glass pavilion below with dappled shade like the branches of a tree.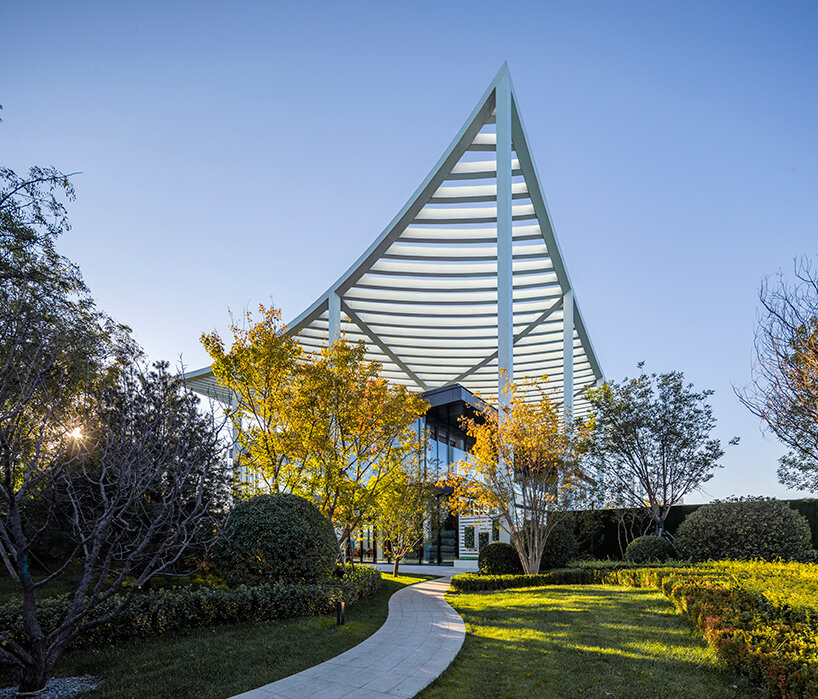 standing on slender legs, the roof rises to a height of 18.5 meters (60 feet) at its tallest point and extends over an area of 30 x 50 meters (98 x 164 feet) — anchoring the airy, transparent pavilion to the site. inside the pavilion, a large atrium and the expansive views of the surrounding lake and gardens reinforce the open atmosphere and create a bright, welcoming space. the second floor includes offices and a viewing balcony, as well as seating areas for smaller and larger groups.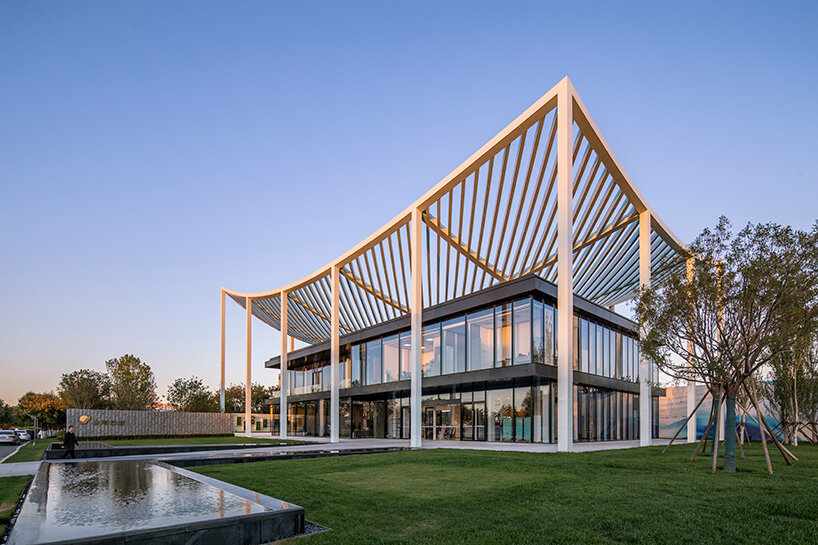 'the open areas around the atrium accommodate the public program while the rest of the upper floor houses more private office spaces,' adds remko van der vorm, project architect at powerhouse company. made from powder-coated steel, the canopy appears weightless while the dark horizontals of the pavilion ground the structure within its setting. the roof's curved sections were prefabricated, with the structure welded together on site before being finished by hand for a smoothly polished surface.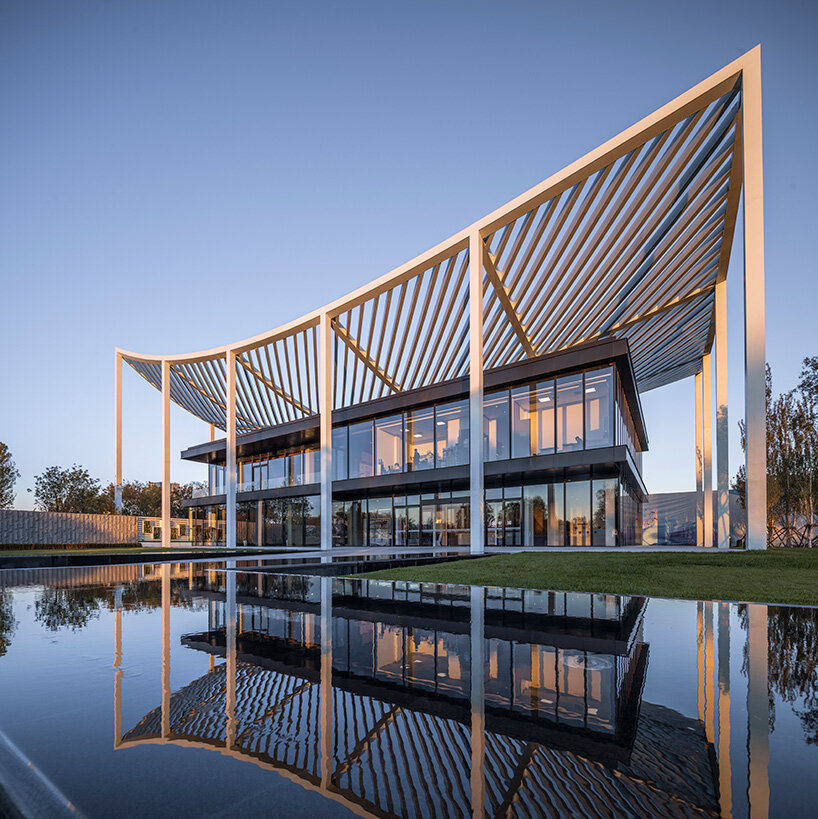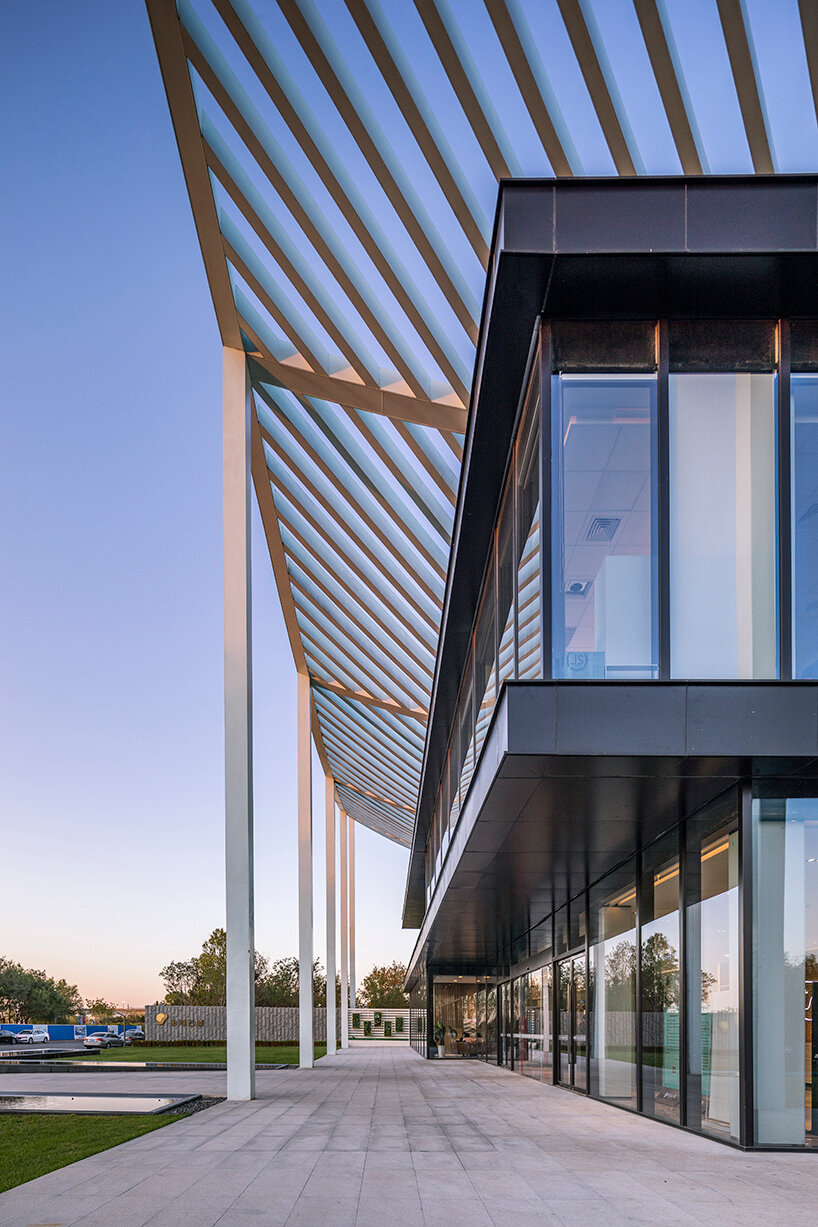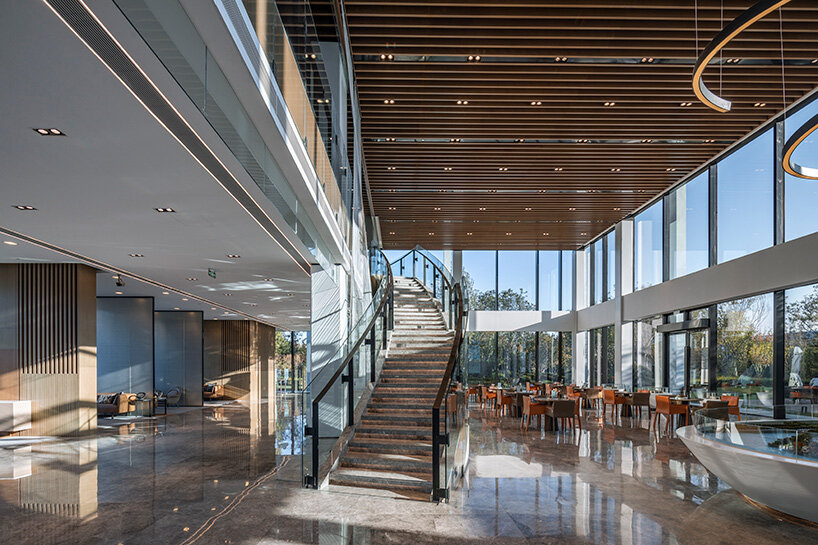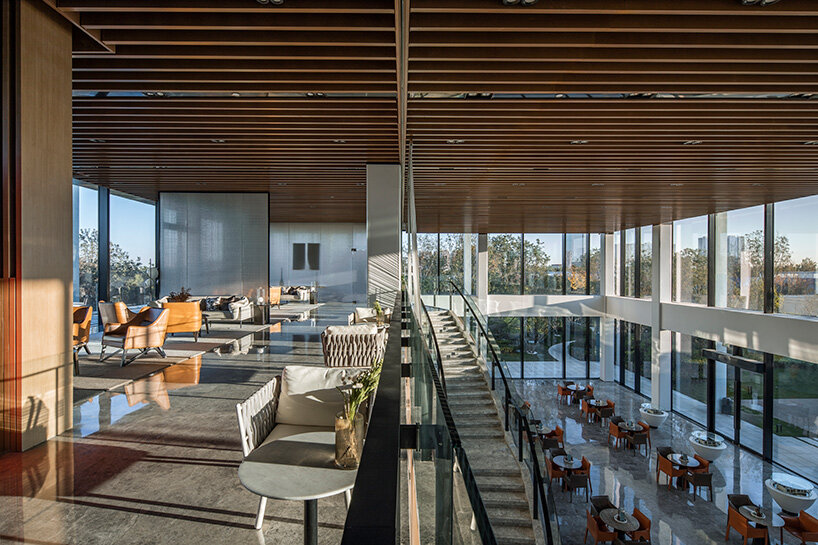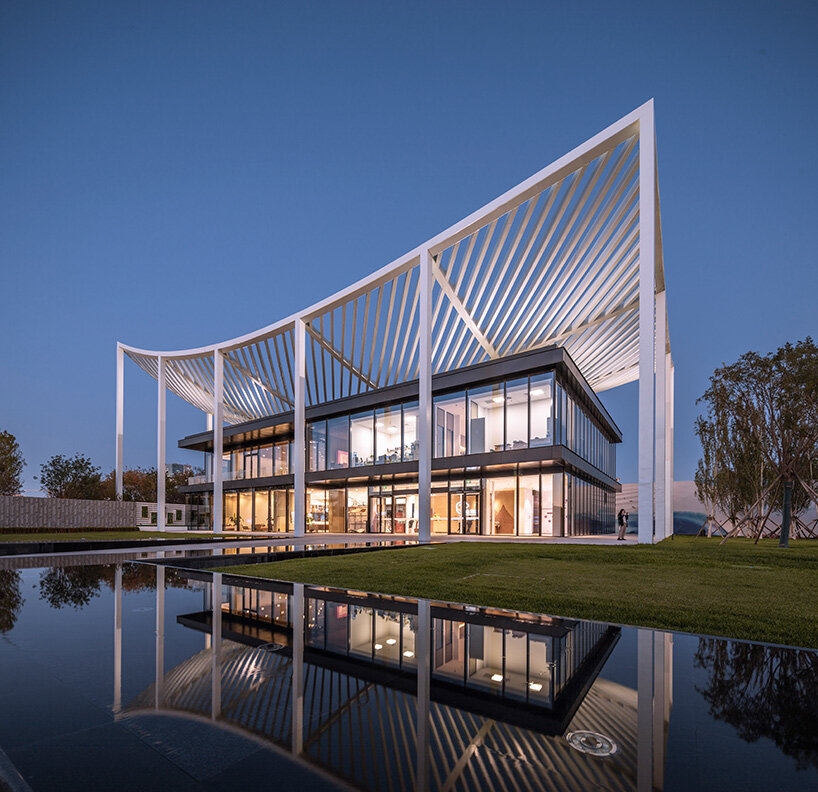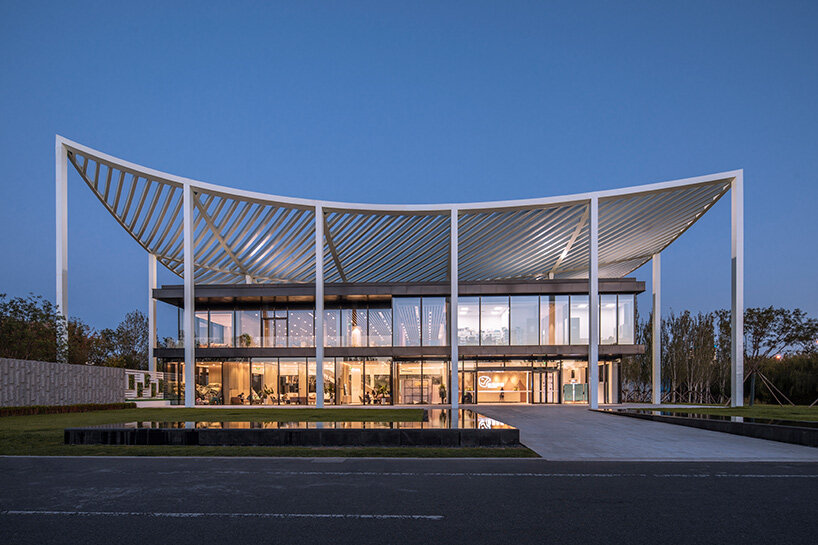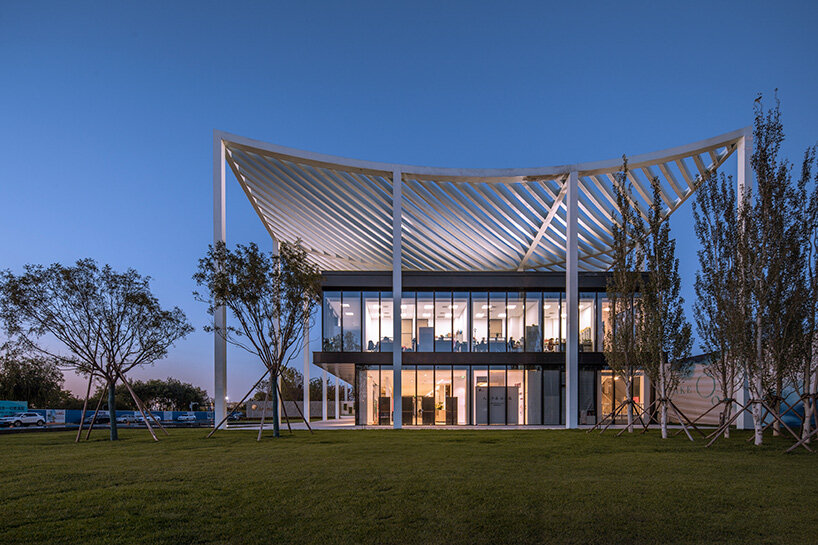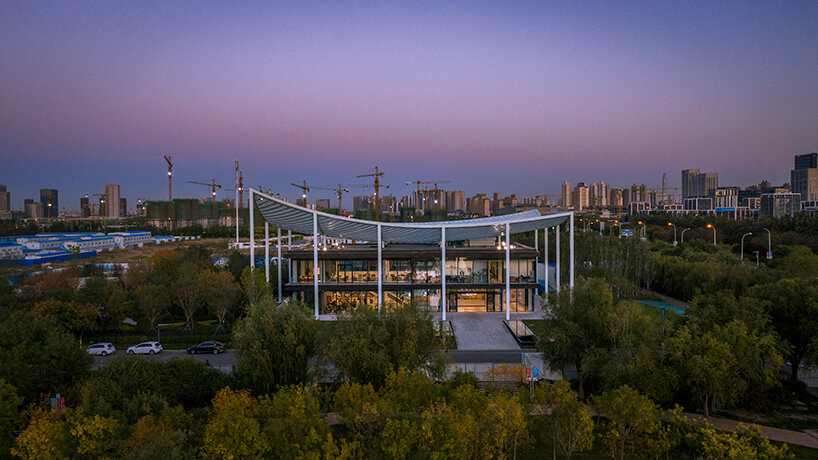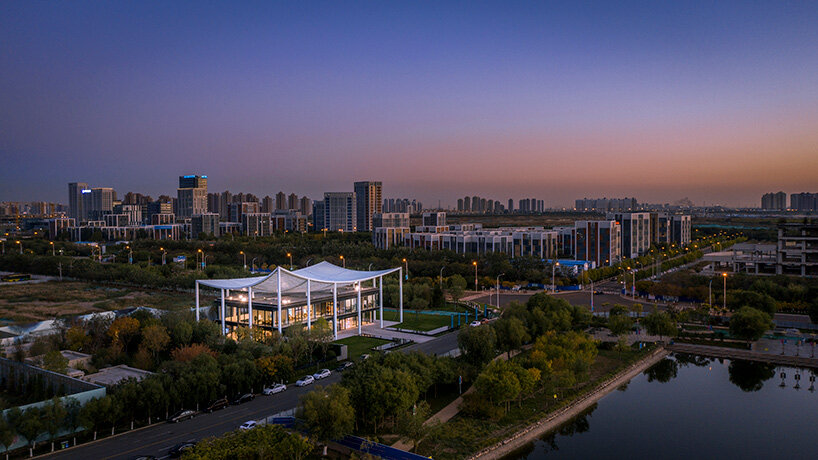 project info:
name: paper roof
location: tianjin, china
status: built
timeline: 2019
size: 1,500 sqm
client: uni-hiku
architect: powerhouse company
partner in charge: nanne de ru, 
stijn kemper
project team: maarten diederix, niels baljet, remko van der vorm, rui wang, filip galić, maarten diederix, gert ververs, erwin van strien, davide del sante, penny uni, caroline desplan, rafael zarza garciá, kimi fei, yanni huang
collaborators —
co-architect: beijing victory star architectural & civil engineering design co., ltd
interior architect: shanghai DID architecture design co., ltd, esperluette design
landscape architect: ecoland planning and design corp.
urban planner: HZS DESIGN UNIVERSAL PARTNERS
MEP (installations) advisor: beijing victory star architectural & civil engineering design co., ltd
acoustics/fire protection advisor: tianjin fangbiao century planning and architectural design co., ltd.
structural/geotechnical engineer: beijing victory star architectural & civil engineering design co., ltd
façade engineer: beijing victory star architectural & civil engineering design co., ltd
lighting advisor: shenzhen minkave technology co.,ltd
contractor: china construction second engineering bureau ltd.
branding/signage: beijing yitongboya corporate image design co., ltd
photography: weiqi jin (AST)
philip stevens I designboom
jan 17, 2021