with its recently completed casamanda, presicci + pantanella d'ettorre architetti seeks a connection to its natural tuscan context. the stone dwelling stands along the site of a pre-existing building and has been reinvented as a small modern farmhouse where the elements of its natural surroundings materially inform the architecture. the subdued tones of the earth and the surrounding greenery visually blend with the volume and enter the space.
images © simone bossi | @simonebossiphotographer
presicci + pantanella d'ettorre architetti organizes its casamanda along two levels. the interior space is naturally illuminated by a full-height vertical cut along the north elevation of the dwelling. an exterior staircase leads directly to one of the bedrooms, and is expressed with a material language of exposed concrete and iron to contrast the more traditional masonry and terracotta. along the small country road, the stone volume interrupts the continuity of the sandstone wall, and simultaneously dialogues with it, as if it were its own derivation.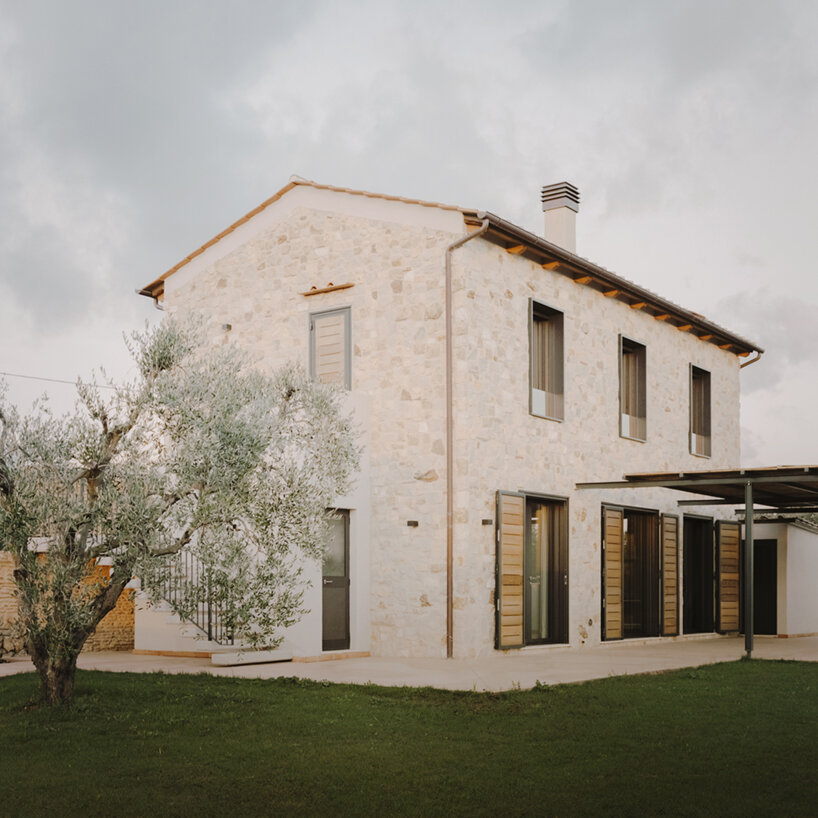 the ground floor of presicci + pantanella d'ettorre architetti's casamanda is curated with concrete flooring throughout. the shared spaces along this level, including the kitchen, the dining room and the living room, share the same open space and look out. toward the distant tuscan landscape through large windows. upstairs, the private spaces are elevated, taking advantage of the height of the wooden roof. these bedrooms open outward to unique views towards the lagoon to the south that lines the horizon.